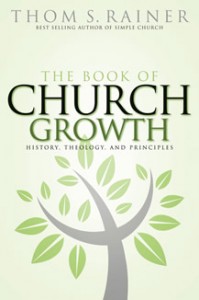 I had to read Thom Rainer's The Book of Church Growth as an assigned read for a project I'm working on right now.  To be honest, I was not motivated about it.  After devouring it in three days, however, I have to say that I was wrong.  This book is great.  Not only is it a great overview of the Church Growth Movement, this is a great book to help you look into some research that shows some of the pragmatic principles that bring about church growth. 
But what is church growth?  Is it simply putting more seats in pews or feeding the people from the word of God so that they grow spiritually? Rainer defines church growth this way:
Church growth is that discipline which seeks to understand, through biblical, sociological, historical, and behavioral study, why churches grow or decline.  True church growth takes place when "Great Commission" disciples are added adn are evidenced by responsible church membership. 
So, according to Rainer, church growth is all of those things.  Church growth is both evangelism and discipleship.  It is conversion and attendance.  it is baptism and responisbile membership.  In this work Rainer outlines the history of the movement with its beginnings in the foundational work, The Bridges of God, by Donald McGavaran who desired to see missions in India actually reach people with the message of the gospel and win them to Christ.  Rainer goes on to discuss the theology of church growth, which is a bit redundant because the simple theology of church growth outlined by Rainer is basically a simple theology of the evangelical church.  Lastly Rainer shows many of the principles of church growth.
Rainer does a great job of showing that pragmatism does not mean unorthodox or untheological.  So, he shows in Chapter 18 that prayer is the undergirding principle for church growth.  the power of God alone can bring about true church growth.  Rainer writes, prayer is indispensable to understanding God's vision for churches.  Moving on, however, Rainer shows that God uses means to accomoplish his sovereign will, and the one of the primary factors God uses in growing churches is visionary leadership from pastors.
Nearly twenty years ago, C. Peter Wagner boldly proclaimed a central church growth principle: "In america, the primary catalytic factor for growth in a local church is the pastor.  In ever growting, dynamic church I have studied, I have found a key person whom God is using to make it happen."
The Book of Church Growth will benefit your ministry.  It is ridiculous to believe that theology without practical application is the biblical model for God's church.  No, God has shown his word to be relevant to hundreds of generations since the creation of the world and it continues to be relevant today.  Rainer shows that the church of Christ should be as relevant as his word.