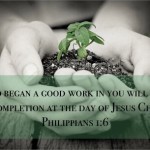 Much ink has been spilt in the last twenty years or so over an issue known in theological circles as "the Lordship controversy" (See John MacArthur's take here). In a nutshell, the issue comes down to the question of whether or not you can have Jesus as your Savior but not your Lord.
Since so much has been written about this issue and is readily available through a google search, I will not take the time to rehash the issue, only to write of God's promises.
God is loving. He is much more loving and giving than we often give him credit for. He promises that he will finish the good work he started in us. When he saves us, he is not satisfied to leave us in our sin, his salvation includes our progressive sanctification as well as our regeneration, justification, and eventual glorification among other things. We must not miss the already but not yet aspects of our salvation in Christ.
When Jesus becomes our savior, he saves us immediately from the ultimate penalty of our sin. We are his children, we have been redeemed and adopted He also begins the process of saving us from the grip of sin in this life. Sin no longer has dominion over us once we belong to Christ, but the process of continually turning from our sin and looking more like Jesus (this is called sanctification) takes time. This process is called progressive sanctification–progressively looking more and more like Jesus.
There are human responsiblities to sanctification ("Do not quench the Spirit," "Seek the things that are above, where Christ is," "Put to death threfore what is earthly in you," "Take up the whole armor of God," "Stand firm," etc…). Often when we talk of sanctification we focus on what we can do to be more like Jesus, but we must not neglect the promises of God regarding our sanctification. Jesus prayed in John 17:17, "Sanctify them in the truth." His prayer to God was not that he would help the apostles be more godly, but that he would make them more Godly. In Leviticus 20:8, God claims to be the one who sanctifies his people. Paul wrote the Thessalonians praying that "the God of peace himself sanctify you completely" (1 Thessalonians 5:23).
If Christ is your Savior, he promises to be your Lord as well.
Click To Tweet
What does any of this have to do with the Lordship controversy? "Is Jesus your Savior only or have you made him the Lord of your life" is a question often asked as if there is some huge dichotomy. Here's the promise that God's word gives us: If Christ is your savior, he will be your Lord. You may not be fully surrendered to his control today, but rest assured, if he has saved you, he will change you. He loves in the greatest kind of way, the way that does not allow us to remain in our bondage to sin, he saves us and changes us. Praise God that he is not content to only be a Savior, he changes us into his likeness. He is Lord!